Description
Standard Ballistic Helmet (SBH) – Foliage Green
The NIJ Level IIIA GunNook Standard Ballistic Helmet (S.B.H.) was designed and produced to replace the older model MICH 2000, and 2001 helmets. The S.B.H. provides improved performance with reduced weight over the previously issued helmets.
The base material of the helmet is a state-of-the-art para-aramid that utilizes a unique construction resulting in increased ballistic protection.
Our comfortable, closed-cell foam, "Hex" Pad Suspension, in combination with a four point "Easy Adjust" retention system, allows for several adjustments to achieve a snug and extremely comfortable fit. The use of an H-style nape pad in the 4-point retention makes the helmet very stable even when using Night Vision Goggles (goggles sold separately).
The Standard Ballistic Helmet integrates with all of our Suspension Systems, "Para-Rails" Helmet Rail System, "TAC One" Headset and "TAC TWO" Headset for tactical communications and increased hearing protection.
The Standard operator helmet is offered in 2 sizes, M/L 3Lbs. and L/XL 3.2Lbs.
High Cut side walls to allow for use of Comm gear
High Cut shell provides the same amount of head coverage / size as the MICH 2002 "Gun-Fighter" model
Includes Skeleton NVG Shroud, bungee lanyards, integrated chinstrap
Lightweight, multi-impact, ventilated liner with repositionable "Hex" pad system made of closed-cell comfort foam that is not affected by temperature, altitude, or moisture
Dial adjustable suspension system with replaceable front, nape, and side pads quickly detaches to allow convenient donning and doffing of COMMs headsets with headbands
Integrated "Easy Adjust" retention system gives the helmet 4x more stability than standard issue ACH helmet suspension and retention products
Comes standard with MARSOC / WARCOM night vision 3-hole mount pattern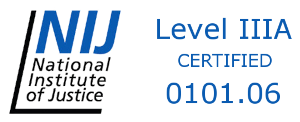 Tested to protect against the following rounds:
.22 LR
38 Special
9mm
.45 ACP
.44 Mag
The SBH is designed to conform to Ballistic Resistance NIJ Standard-0101.06, and will stop multiple handgun caliber rounds IAW NIJ-STD-0106.01. Multiple hits at the same point of impact will not penetrate this helmet.
Ballistic Resistance NIJ Standard-0106.01 Standard & Testing Specification:
Protects against 8.1 g (125 gr) .357 SIG FMJ Flat Nose (FN) bullets at a velocity of 448 m/s ± 9.1 m/s (1470 ft/s ± 30 ft/s) and 15.6 g (240 gr) .44 Magnum Semi Jacketed Hollow Point (SJHP) bullets at a velocity of 436 m/s (1430 ft/s ± 30 ft/s). Conditioned armor protects against 8.1 g (125 gr) .357 SIG FMJ Flat Nose (FN) bullets at a velocity of 430 m/s ± 9.1 m/s (1410 ft/s ± 30 ft/s) and 15.6 g (240 gr) .44 Magnum Semi Jacketed Hollow Point (SJHP) bullets at a velocity of 408 m/s ± 9.1 m/s (1340 ft/s ± 30 ft/s). It also provides protection against most handgun threats, as well as the threats covered by NIJ I, NIJ II and NIJ IIA
We use only the highest quality materials in the manufacture of our products.
GO MILITARY GRADE, GO GUNNOOK BALLISTIC AND TACTICAL!
Money back guarantee
All of our ballistic products are covered under our limited lifetime warranty. All accessories are covered under the industry standard 1 year.
Please note, most helmets are made at the time of order for maximum "freshness" and shelf-life and may take up to 1-2 weeks to cure before the order can be fulfilled.
Please note that due to longer than usual production delays, our out-of-stock and back-ordered GunNook Standard ballistic Helmets may take up to 4-8 weeks to ship. SBH items in stock will still ship on time. All other items are currently unaffected. If you have any questions or to confirm an item is in stock please call or email us.