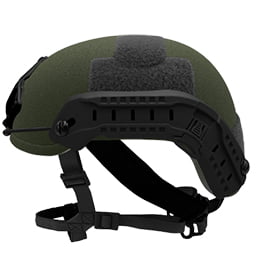 We are pleased to introduce the industry's first, fully interactive, Custom Ballistic Helmet Builder by GunNook LLC. With our new helmet builder you will be able to interactively build a new helmet from the ground up; exactly how you want from thousands of different configurations.
Choose your cut, color scheme, and any accessories that best suit your individual needs. Configurable options range from: NVG mounts, assorted Helmet Rails, Helmets Pads, Chin Straps, Bungees, Velcro, and more! As well as what type of protection you're looking for you can choose from Bump Protection all the way up to Rifle Rated ballistic protection! You are in complete control of building your very own custom ballistic helmet just the way you want it!
As with any GunNook product, customer reassurance is a top priority with us. As such, we're pleased to say, these shells are made right here in the United States in an ISO 9001 certified building, assuring you are getting the quality you'd expect from GunNook LLC.
The helmet builder will be an ongoing project for us as we add more accessories and configurations in the future. Users will also be able to save their current builds and or share them on social media so all their friends can see and comment on their builds.
With that said, let's see your custom configurations!! And as always, please let us know what you think!! Build yours here!